One of the most in-depth reviews is the WPArena article WooCommerce vs Cart66. If you want all the details, check out that article.  In this article, we will list the main points and highlights so you can quickly determine which WordPress shopping cart plugin is right for you.

Just Install One Plugin – Done
Cart66 is very different from all the other WordPress shopping cart plugins. We like to say, "It's better together." You don't  shop a confusing marketplace to get the features you need. Instead, everything you need is included with the installation of just one plugin.
You Get It All
Over 100 payment gateways built-in (Authorize.net, Stripe, PayPal, and more)
Payment security (PCI Compliance) included – you don't even need your own SSL cert
All the e-commerce features to run your store (products, shipping, taxes, coupons, etc.)
Secure connected services that go beyond what you can do with a plugin alone.

Business class email system (better delivery, less likely to be flagged as spam)
Recurring billing (subscriptions, memberships, monthly donations, etc.)
CDN for secure digital file delivery (if you sell digital products)
Live shipping rate quotes
Printing shipping labels
Inventory mangement
and more…
You don't have to shop around to find all the pieces for the site you're trying to build. It's all ready to go – right out of the box.
You Know What Cart66 Actually Costs
Other WordPress shopping carts may start out free, but the price sky rockets fast as you have to buy all the add-ons you need to run your store. With Cart66, it's all right there for you. No tricky marketplaces. No hidden fees.
Support, Support, Support
There are a lot of pieces to the puzzle when you're setting up your online store. Cart66 dramatically simplifies the process with just one WordPress plugin (rather than a mash-up of bunches of plugins). But if you need any help, we provide personal, in-depth, hands-on support.
We also offer a Launch Pack where we'll install Cart66 for you and show you how to set up your store by loading in a couple products for you. You'll be up and running super fast and will know how to keep your store going.
Check out our reviews on WordPress.org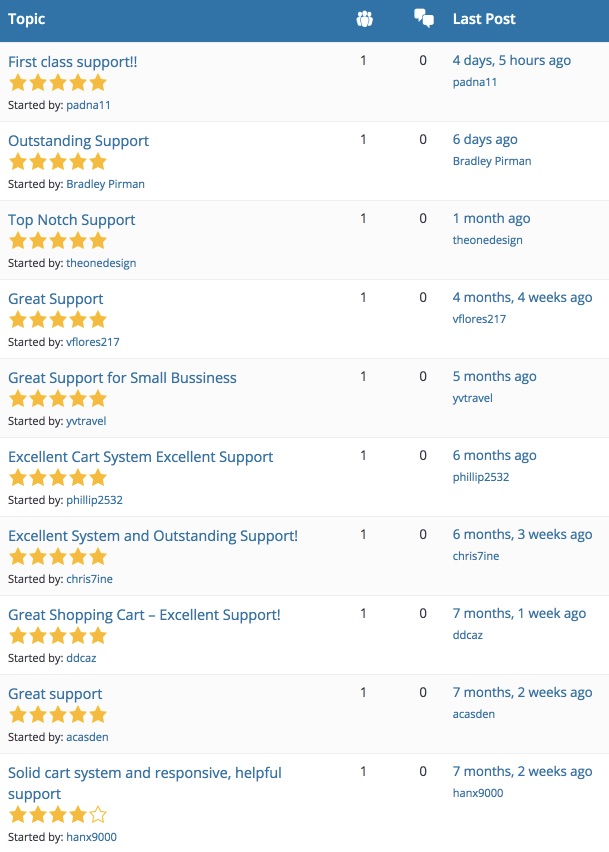 Not All WordPress Stores Are The Same
Perhaps this is an obvious thing to say but the point is that if not all WordPress stores are the same then it is reasonable to assume that you shouldn't use the same WordPress ecommerce plugin for all WordPress stores. So, let's take a quick look at the major differences between WooCommerce and Cart66.
Complete Platform vs Plugin Mashup
Another really big difference between Cart66 and WooCommerce is that Cart66 gives you a complete ecommerce platform for your WordPress store. Literally everything you need – all the features, payment security, and support – are all together in one place.
All of the features are built directly into Cart66 so you don't have to hunt down and mash up a bunch of plugins developed by 3rd party developers. Everything is built by the same team, works together seamlessly, and is supported by the Cart66 team.
Secure Connected Services
Cart66 goes beyond what you can do with a plugin alone by bringing you secure connected services like these.
Hosted Payment Page
No other WordPress ecommerce system makes your online store PCI compliant. Cart66 gives you a secure hosted payment page so your customers know you are serious about keeping them safe.
Secure Customer Portal
All of your sensitive ecommerce data like your customers orders are secured in a PCI compliant environment. So, if your WordPress site ever gets hacked, none of your private ecommerce data is exposed.
Email Automation
Keep in touch with your customers by sending automated emails based on what they bought. Email suggestions for related products, send a coupon for their next purchase, or just stay in touch by sending a thank you email.
Other Secure Connected Services Included With Cart66
Payment security and PCI compliance
Security for all your ecommerce data
Built-in recurring billing engine
100+ built-in payment gateways
Secure file storage if you sell digital products
Business class email server for vastly improved delivery of customer emails and receipts
Live shipping rates
Shipping label printing
Email management system to stay connected with your customers
Premium Products vs Giant Product Catalogs
Cart66 was designed specifically to make it easy to put a product on a page and sell it. There are built in product pages that have a really nice, clean layout for displaying your product images, the product order form, and all the content about your product. In addition, it's really easy to add your product order form to any page or post anywhere on your site.
If you have a lot of detailed content about your products and want to be able to describe everything in detail, then Cart66 is exactly the WordPress ecommerce plugin for you because you can easily put your Add To Cart buttons exactly where you want them, even multiple places on the same page.
If you're looking to built the next Amazon.com and have thousands of products that you want to sort by popularity and you just want an easy way to get loads of cookie-cutter products pages online, then WooCommerce and a nice ecommerce theme will help you.
Easily Add Ecommerce To Your Site
Cart66 does not require an ecommerce theme. Instead, Cart66 brings all the ecommerce features to the table. With Cart66 you can just use the theme you already have. So, if you want to start accepting donations, or you want to start selling a digital product, or you want to start offering a subscription, you do not have to rebuild your site. Just install Cart66 and you've got everything you need to start monetizing your WordPress site. Like, literally everything. You do not even need to add an SSL certificate to your site because Cart66 provides all the security for your payments.
Learn More
If all this sounds good and you want to learn more about Cart66, here are a couple links to check out next.