Sometimes you sell a product where you want to include some special instructions or information in the email receipt. For example, if you sell a WordPress theme, you might include a link to PDF with instructions. Or, maybe you want to recommend some related products. For example, if someone buys a coat, you can email them about hats that go nicely with the coat. Whatever the reason, it's nice to be able to send customized information to your customer based on what product they just bought from you. Here's a quick demonstration of how to include product specific content in your email receipts using Cart66.
Upselling In The Email Receipt
In this example, let's say we're in a band and we are selling a track from our latest album. If the customer buys a track, I want to include a coupon for 10% off the full album. So the customer's experience would be:
Buy a single track from an album
Get an email receipt offering 10% off the complete album
This is really easy to set up and a great way to get more sales.
Sign in to your Cart66 Cloud dashboard at https://manage.cart66.com
Navigate to the product you want to work with and you will see a text box called Receipt Text where you can enter text (or HTML) that gets included in the receipt when that product is purchased.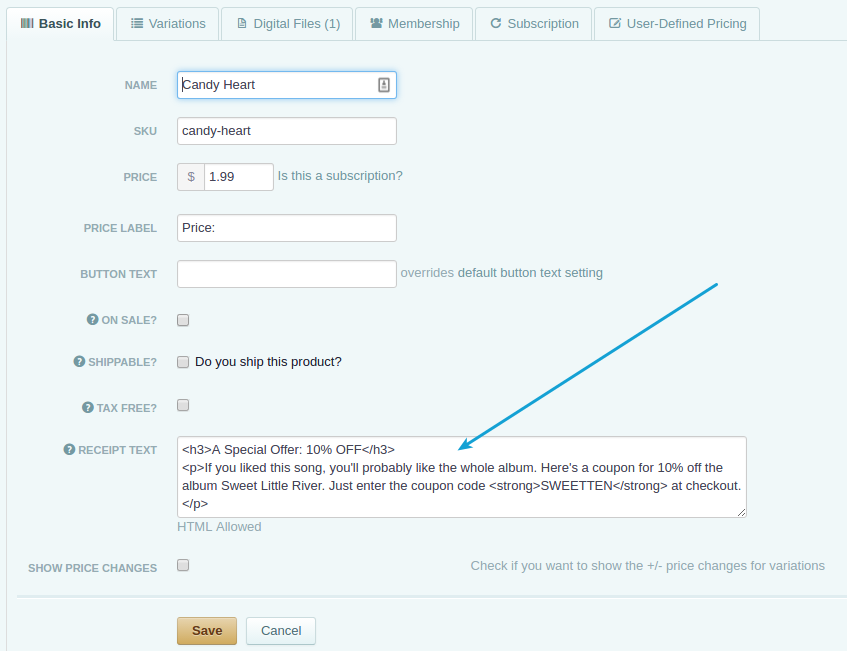 In this example, I have spiced up the content with a little bit of (optional) HTML markup to highlight the offer and the coupon code.
The Email Receipt Content
Now, whenever someone buys the track Candy Heart, the email receipt will include a coupon code for 10% off the complete album. It will look like this: