YouTube has over a billion users — almost one-third of all people on the Internet — and every day people watch hundreds of millions of hours on YouTube and generate billions of views. YouTube reaches more 18-49 year-olds than any cable network in the United States.  You can read even more statistics on how YouTube is skyrocketing, so let's talk about YouTube marketing and how you can use YouTube to sell your products.
YouTube Marketing Videos
The first thing you need if you want to get into YouTube Marketing is videos. Depending on what kind of products you are selling there are a variety of ways to create the videos. If you are selling an online service, or something involving a website, you will most likely want to be able to make screencasts to demonstrate your product. If you have physical products or if you have videos featuring your products you will need a video camera and a microphone.
Here is a quick list of a few things you might want to look into when you're getting started with creating YouTube videos.
A Good Microphone
One of the most important things you'll want to get is a good microphone. Fortunately there are some really great microphones that don't cost too much.
Blue Microphones makes some really nice USB microphones that sound fantastic. The Blue Microphones Yeti USB Microphone is a #1 best seller on Amazon and really sounds amazing – especially for only costing about $110.
If the Yeti is a little bit too pricey, the Blue Microphones Snowball USB mic is another fantastic USB microphone and it is half the price at about $50. We use the Blue Snowball mic when recording some of our own screencasts.
Screen Recording Software
If you're YouTube marketing videos are going to be screencasts demonstrating your web application or software, you'll need an app that can capture your screen. Screenflow by Telestream is one of the best Mac apps for making screencasts.
On Linux we use Simple Screen Recorder which is very bare-bones compared to Screenflow, but it does a fantastic job of capturing your screen. You can set the exact dimensions and location of the screen that will be captured. This becomes important when we talk about aspect ratios. If the screencast is composed of multiple video clips, you will need a video editor to arrange and combine your clips. On Linux we use OpenShot or Kdenlive.
If you are on Windows or Mac, then you might want to look at the free, web based Screencast-O-matic. It is free to use, and you can upgrade to the Pro version for just $15/YEAR (not month). If you're in the mood to do some heavy spending, you can check out this powerhouse screencasting app Camtasia which costs $299.
Video Camera
The price of video cameras is all over the place. The good news is, you don't have to spend a ton of money to get started. You'll want to find a camera that can record HD video in 1080p. You can use 720p as that is the native resolution of YouTube, but if you're buying a new camera you'll probably want 1080p. If you're just getting started though, your iPhone camera will do a shockingly good job. If you have about $200 to invest, take a look at the Sony Handycam HD Camcorder. It's a #1 best seller on Amazon and has all the power you need to record really nice YouTube marketing videos.
Encoding Settings and Dimensions
Once you have the tools you need, the next thing you'll need to do is get your videos encoded properly  and in the correct dimensions for YouTube.  YouTube has posted a list of recommended settings for your videos here.
The main thing to keep in mind is that YouTube uses 16:9 aspect ratio players. That means if you upload a video that is in some other aspect ratio, then you will have black bars on the sides of your videos and you picture won't take up the full space. That will make your videos look less than professional and will be somewhat frustrating to watch.
To fit the player perfectly, encode at one of these resolutions:
2160p: 3840×2160
1440p: 2560×1440
1080p: 1920×1080
720p: 1280×720
For your encoding settings, the ideal formats are:
Container: MP4
Audio codec: AAC-LC
Video codec: H.264  progressive scan (not interlaced)
YouTube Annotations
Now that we've talked about how to create your videos, let's move on to how to connect your YouTube marketing videos to your website. One of the most powerful ways to use YouTube for marketing your products is to use appropriately placed annotations that link from your video directly to your website. An annotation is that little pop-up windows with a few words in them. That pop-up box can be a link. For example, if you have a video reviewing a watch, you can pop up a little annotation box that links directly to the page on your e-commerce site where you sell the watch. This is an example of an annotation.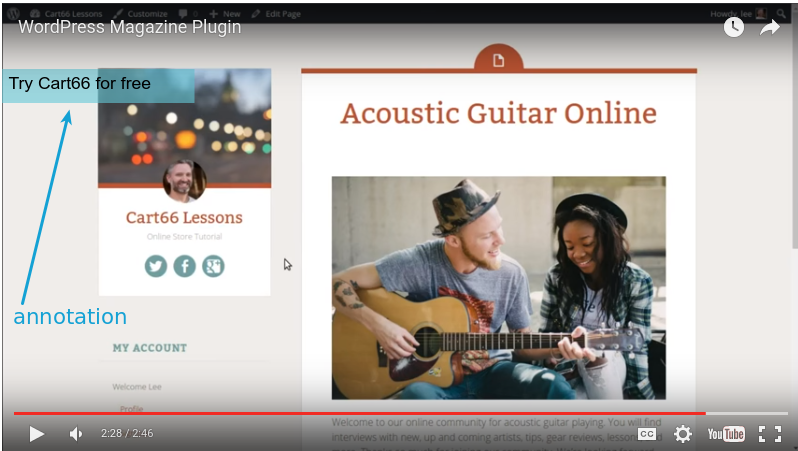 When the annotation is clicked, the visitor is taken to whatever page on your site you specify when creating the annotation, in this case, the sign up page for Cart66.
Connecting Your Site To Your YouTube Channel


To get the most power from your YouTube marketing videos, you'll want to be able to include annotatins that link directly to your website. In order for the annotations to link to your website, you have to verify ownership of the associated website. Depending on your level of tech skills, you may want to get your web developer to help out with this. It involves adding a TXT record to your domains DNS, but it's not very hard. Google has a comprehensive help article describing all the details of how to link to your website from your videos.
The key to the whole process is to link your site to your YouTube channel as a verified associated website. To do that you need to log in to your YouTube channel and click Creator Studio > Channel > Advanced.
Scroll down to the Associated Website section and enter the URL to your website. Then you need to follow the steps to verify your ownership of the website you just added. Once everything has been approved the status will change from pending to success. Once your site is showing the success status, you are able to start making annotations that link to any page your your verified associated website.
How To Add Annotations To YouTube Videos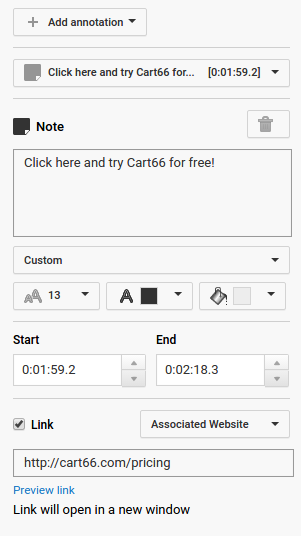 Once you have uploaded your video, and assuming that you have successfully associated your website with your YouTube channel and verified your ownership of that site, you are ready to start making annotations that link to specific pages of your website.
Google has another really comprehensive article here showing you all the details of the different types of annotations and how to add annotations to your YouTube videos.
The main point here is to click the Link checkbox and then select Associated Website from the dropdown menu like this.
Putting It All Together
First, you need the right tools to create your videos. This might include screencasting software, a nice microphone, and maybe a video camera. Once you create your videos and upload them to YouTube, you then need to link your website to your YouTube channel by registering your website as an associated website. After your ecommerce website is verified and successfully linked in to your YouTube channel, it will be available as an option when creating links in your annotations.
Now you can make a video about a product you sell and create an annotation that will link the viewer directly to the product page on your site for the product in the video.
Here are a few ideas for different types of videos you can use for marketing your products on YouTube :
Do a product review and add an annotation linking to the product(s) in the review
Make a video tutorial showing how to use a feature of your product
Interview some of your customers talking about how they use your product
Go to a conference in your area of business and ask people what they think of your product
Create a before and after video showing the difference your product makes
YouTube marketing videos can be a really powerful way to get your message out to your customers. You can clearly demonstrate the benefits of your product and then, right there on the spot, provide a link to actually buy the product they are watching in the video.
Here is an example of one of our own videos that includes an annotation at the end of the video with a link to sign up and try Cart66.