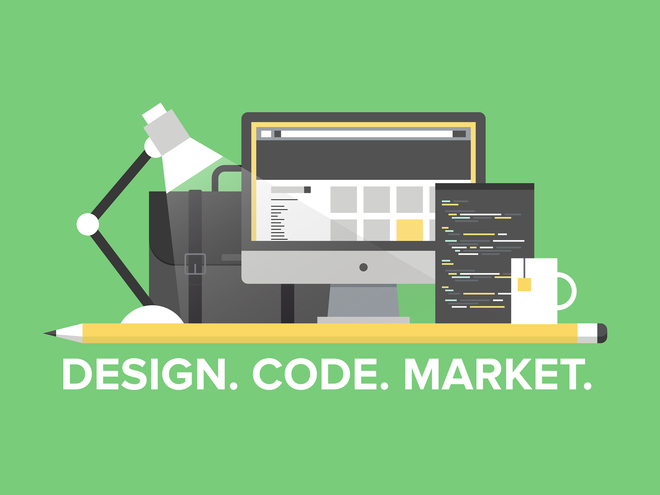 As a WordPress developer, one of the ways to serve your clients better and to make more money in the process is to put your clients on a WordPress maintenance plan. To keep your clients' sites secure and running at top performance you will want to make sure you're running the latest version of WordPress, clear out spam comments, and keep the plugins and themes up to date. A lot of WordPress developers I've been talking to lately are moving away from charging for web hosting in favor of setting their clients up on WordPress maintenance plans. The challenge is, how do you bill your clients for your support plans? Let's take a look at how you can quickly set up Cart66 with recurring billing to sell WordPress maintenance plans to your clients.
Use The Site and Theme You Already Have
One of the great things about Cart66 is that it works with virtually all themes. So, you don't have to rebuild your site. You can start selling WordPress Maintenance plans on the site you already have. You do not have to change hosts, themes, or even install an SSL certificate. You literally just install one plugin and you've got everything you need:
Subscriptions with recurring billing
100+ Payment gateways built-in for free
PCI compliant security
Your Maintenance Plans
Before you can sell maintenance and support packages to your clients, you need to figure out what packages  you want to offer. Here are a few popular ideas with some example pricing:
Basic Security Plan
You log into your clients WordPress site once per month and update all the WordPress plugins.
Price: $50/month
On Call Support
In addition to the Basic Security plan, you will be "on call" for up to 2 hours of support requests per month. So if your client needs help learning their way around WordPress, wants you to connect their email newsletter service, or wants a couple small site updates you are there to help.
Price: $150/month
Content Marketing
In addition to offering Basic Security and being On Call for help, you also help your client publish a weekly blog post. They send you a blog post via email (maybe in a Word Doc or Google Doc). You then format the post for the web, add some images, publish the post and then announce the post on your clients social media accounts.
Price: $750/month
These are just examples of the types of packages you might offer. Of course, you can create your own packages and offer the services that you do best. For example, if you're awesome at making graphics, you could create a package that includes some custom graphics for social media posts. If you love social media, create a package to help your clients manage their Facebook and Twitter accounts. You can make as many packages as you want. In a moment we'll also look at creating custom packages for your clients as well.
Selling Your Maintenance Plans
We'll look at a couple different ways you can sell your WordPress maintenance plans to your clients. The first, is listing them on your website. You can easily set up a page on your WordPress site that lists your WordPress maintenance plans and put a Buy Now button on each one.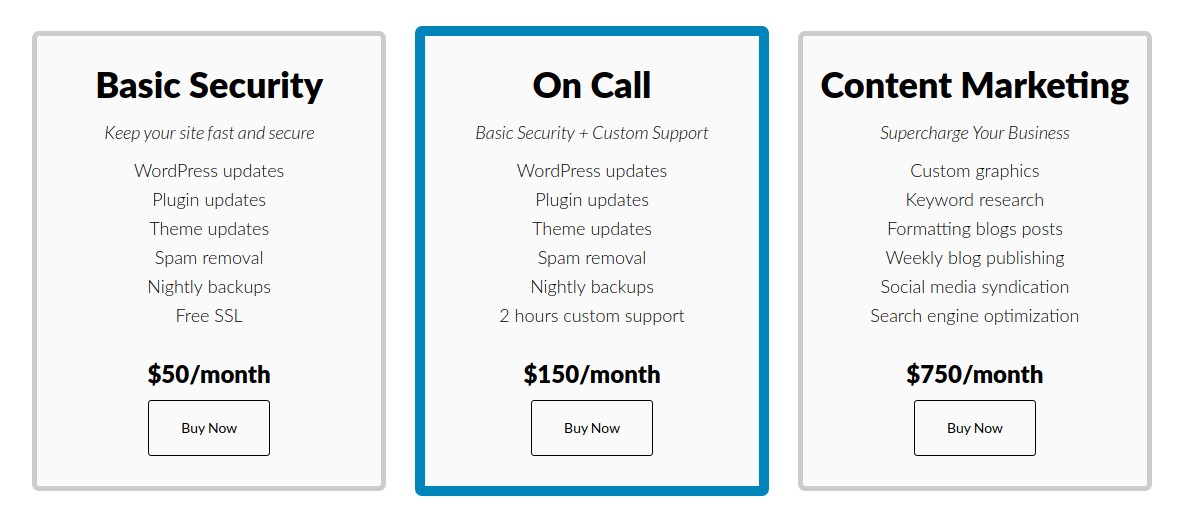 When you client buys one of your packages, they will be on a monthly subscription and you'll be getting paid on-time every month.
Your customers will also have access to your secure customer portal where they can manage their billing information.
Also note, your customers can subscribe to multiple maintenance plans at the same time. So, for example, if you wanted to you could have a customer on BOTH the Basic Security plan AND the Content Marketing plan. This gives you the flexibility to grow your business however you'd like.
Build Your Own Plans
Another way to sell your WordPress maintenance plans is to allow your clients to build their own custom package. You can do this by creating a form that lists the various options and services you offer.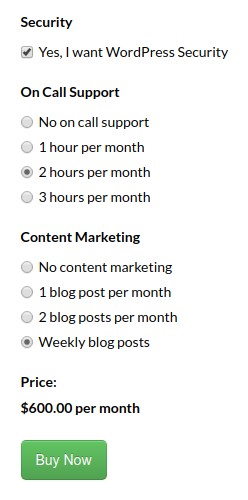 As your client selects from the available options, the price dynamically changes.
Subscribe Via Email
Another way you can do this is send your client a proposal and include a Buy Now link in your email or even in your proposal. You can configure a subscription product in Cart66 for the exact amount you want to charge your customer each month based on their specific project. Then, email the link to them and they can subscribe.
Doing it like this allows you to make custom plans based on exactly what your customer needs. It's a super easy way to manage your clients maintenance plans.
Wrapping Things Up
Cart66 gives you the fastest and easiest way to start accepting monthly payments for your WordPress support and maintenance packages. There are plenty of ways to present the products to your customers:
Offer packages on your website
Your clients can build their own plan
Send your clients a link to subscribe to a custom plan
Your clients can easily manage their billing information on your secure customer portal. You can also sell multiple subscription plans to the same client.
Perhaps best of all, you don't have to change anything about your website to get started. Cart66 brings ALL of the ecommerce features (including PCI compliant security) to you. It works with the theme you already have. Just install the Cart66 WordPress plugin and you're ready to go.
If you have any questions, just let us know how we can help.