If you are looking for a WordPress event registration plugin, take a look at Cart66. Yes, Cart66 is a great tool for event registration because you can create your registration form and collect as much information as you need. Unlike other WordPress event registration plugins, Cart66 comes with everything you need to handle the entire process from selling tickets, including additional files with the order (like the event schedule), limiting the number of tickets you sell, and collecting payment. In addition, Cart66 takes care of all the security and PCI compliance for you so you can accept credit card payments without any hassle. Let's take a look at how it all works.
Why Cart66 Is A Great WordPress Event Registration Plugin
Cart66 is different from other WordPress plugins because, in addition to a WordPress plugin, you also get a suite of hosted services that go beyond what you can do with a plugin alone. For example, Cart66 works with over 100 different payment gateways, has built-in inventory tracking so you can keep from overselling your event, and includes a hosted payment page so you can securely accept credit card payments without having to worry about all the technical issues related to securing an ecommerce site.
What To Look For In An Event Registration System
When you are selling tickets for an event, there are certain things you want to make sure you can do. Here's a list of features you'll want to look for in any event registration system – whether it be for WordPress or any other platform.
Collect custom information on the registration form
Include downloadable material for people who register
Limit the number of people who can register (so you don't oversell the event)
Sell multiple types of tickets for different prices
Offer coupon codes
Set an early bird discount / sale price
Connect with your email newsletter
Securely collect payments

Accept credit card payments
Accept payments through PayPal
Cart66 includes all of these features. Let's take a look at each one and how it works in Cart66. You will see how Cart66 is more than just a WordPress event registration plugin – it is a complete, comprehensive event registration system.
Event Registration Form
Sometimes you just need to sell a ticket and you don't need any additional information from the person attending the event. In that case, you can have a simple "Buy Now" button to let your attendees purchase their tickets. Other times, your event has some details and options that require some input that you need to collect during on your event registration form.
Suppose you are hosting a conference, maybe something like a WordCamp, that spans two days, involves lunch, you give out a t-shirt but need to know what size the person wants, etc. You will want to create an event registration form that asks all of those questions and collects that information. It's not complicated to do and it's all built right in to Cart66. You just create a product and treat the additional information you need to collect as variations of the product.
In Cart66, product variations can be multiple choice – like radio buttons or drop down select boxes, or you can have check boxes to let registrants select multiple options for the same question. You can also have free form text to collect notes and other comments.
Here is an example showing a few variations for an event registration form.
Given these variations, the event registration form looks like this: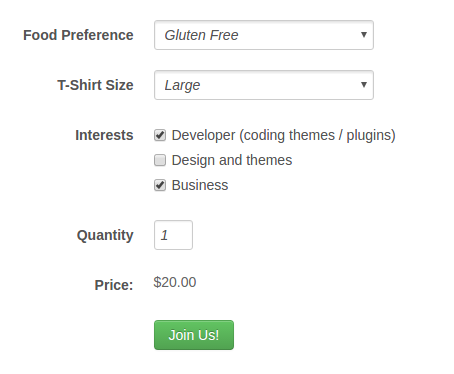 Include Downloadable Files With Registration
After someone registers for an event, it is often helpful to be able to get additional information to the attendee such as the event schedule. If you have the schedule in a PDF, you can easily attach that file to the event registration form so that when someone registers for the event, they will get a link to download the event schedule (and any other files you want to include).
Just upload the event schedule into the Files section of your Cart66 Cloud dashboard, then you can attach the schedule to your event registration form.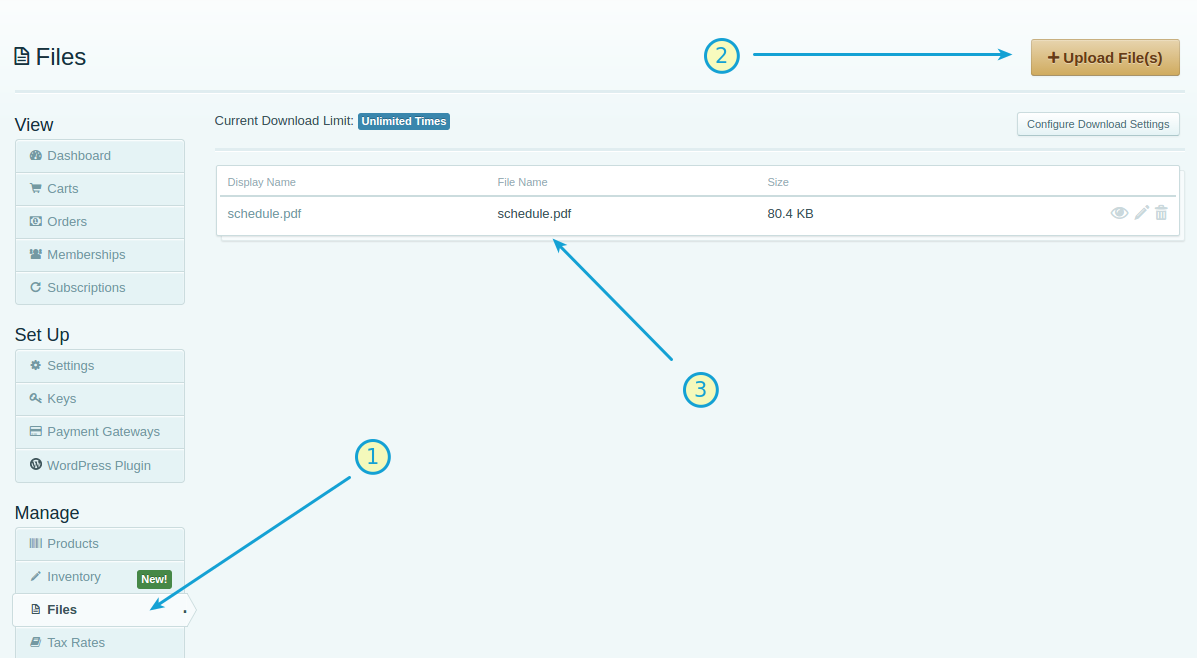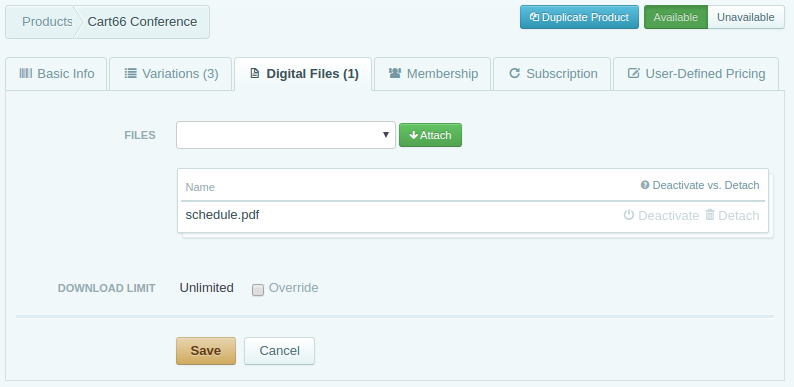 When people register for the event, they will see a link to download the event schedule. The receipt will also be emailed to them and will include a download link as well. The receipt will look like this: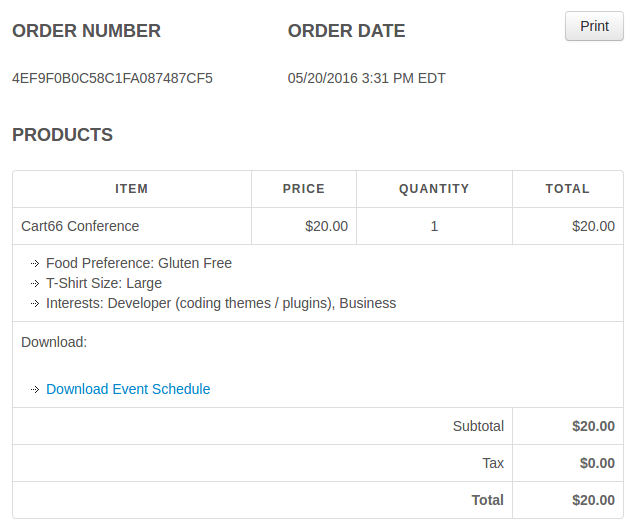 Maximum Number of Event Registrations
For most events, you can only host a finite number of people. Suppose your venue can only hold 400 people. Once you sell 400 tickets the event needs to be marked as sold out and no more event registrations may be made. Use the inventory feature in Cart66 to set the maximum number of tickets you sell.

Once you start tracking inventory for your event, you just set the inventory to maximum number of event registrations you want to permit. So, if your venue can hold 400 people, set the inventory to 400 like this:

Selling Multiple Types Of Tickets
Sometimes you want to sell more than one type of ticket. For example, maybe your selling tickets to a concert and there is a performance on two different dates. You can do this in two different ways depending on your needs.
Single Form For Multiple Events
You can use a single form and allow people to pick which event they want to attend. In the example of the Friday Night and Saturday Night concerts, you can just create a product variation and have people select which night they want to attend. The event registration form would then look something like this: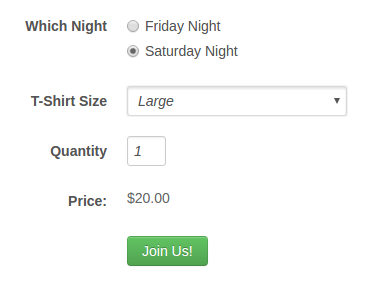 You can still track inventory for each night. If the venue only holds a maximum of 400 people, you would set the inventory for the event registration product to allow 400 registrants for Friday night and 400 for Saturday night. It would look like this: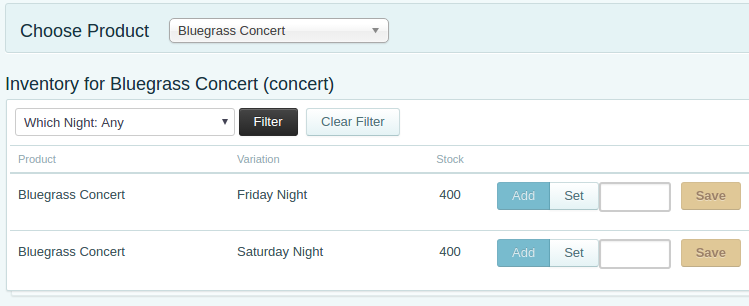 Of course, if you need significantly different information collected for your different events, you can just make to separate products – one for each event.
Coupons and Discounts
All of us who have planned events know how nice it is to know how many people are coming. The sooner we know that, the better prepared we can be. To help encourage people to register sooner rather than later, you can offer early bird discounts. This can be done in several different ways.
Setting A Sale Price
A simple way to handle your early bird discount is to simply put the product on sale to encourage people to sign up early. If you start advertising for your event 3 months out, you can start with your deepest sale price. Then, the next month, reduce the discount. On the last month, you can stop the sale and sell the event registration at the regular price.
The sale option is in the Basic Info section of your product.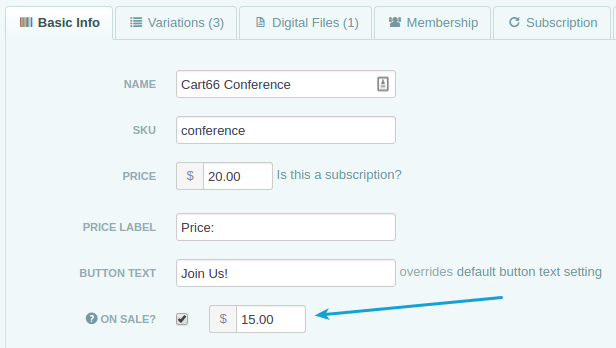 That will make your event registration form look like this: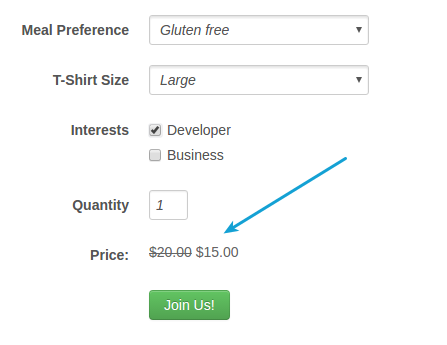 If you want to get fancy, you can customize the price label to say "Early Bird Discount" – by setting that in the Cart66 Cloud Dashboard on the Basic Info tab for the event registration product.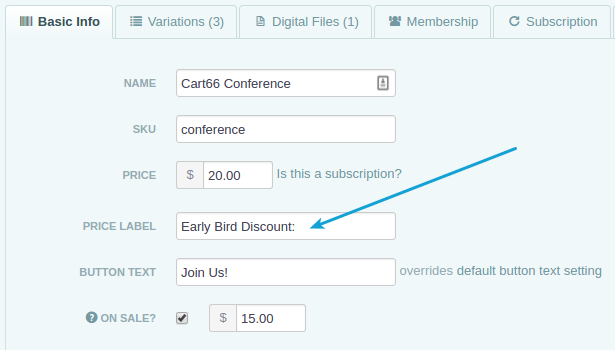 Now your event registration form will look like this.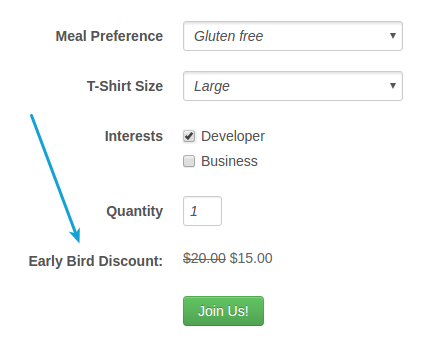 Coupons For Discounts
Another way you might choose to incentivize people to sign up is with coupons. In your Cart66 Cloud dashboard, go to the Coupons section and create a Product Coupon for your event. The basic information might look like this if you wanted to offer $5 off.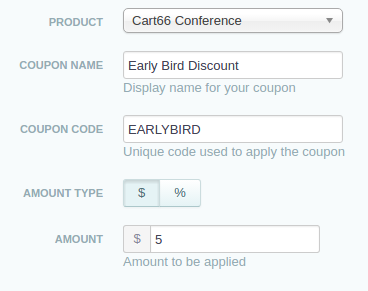 There are other settings you can use to help add a sense of urgency to use the coupon. You can limit the number of times the coupon can be used. So, you could send out an email newsletter with your EARLYBIRD coupon code and say that the first 100 people to register for your event get $5 off the price. You just set the Max Redemptions  for the coupon to 100.
Or, maybe you'd rather have the deadline be a date. You could allow people to use the coupon up until a certain date by setting the To Date value for the coupon availability. This is what the coupon availability settings look like.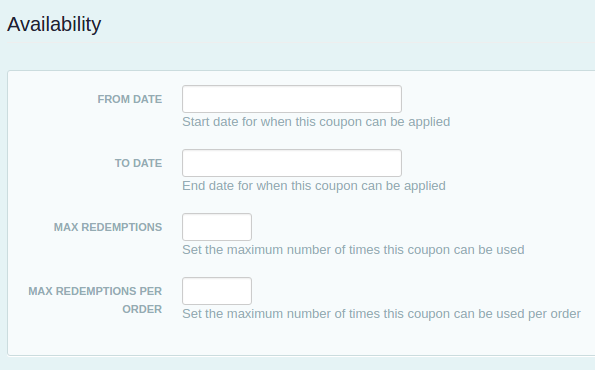 Connecting With Your Email Newsletter
Cart66 currently integrates with MailChimp (more integrations coming soon) so you can have your customers sign up for your newsletter while they are checking out. It's just a little checkbox on the checkout form so it's easy for people registering for your event to stay connected with you via your email newsletter.
Event Registration Payments
One of the strongest features of Cart66 is the secure hosted payments page you get so you can safely and securely accept credit card payments. Many times people think they have to use PayPal because accepting credit card payments is too hard because of all the security and SSL certificates. Cart66 solves that problem by letting you accept credit card payments on your own hosted payment page that looks exactly like the rest of your WordPress website. By skinning your hosted payment page with your WordPress theme, you keep all the design and branding for a smooth and consistent checkout experience. Here is a quick video that shows how the hosted payment page system works in Cart66.
For more information, on how the hosted payment page works, check out this article describing the PCI compliant hosted payment page system.
WordPress Event Registration Plugin Summary
We have gone over a lot of information. The main point is that Cart66 makes a great WordPress event registration plugin because it gives you an entire platform that meets all the needs for creating and securely paying for event registration forms. You can collect all kinds of custom information, promote your event with coupons and sale prices, integrate with your email newsletter, limit the maximum number of registrations and securely accept credit card payments. Cart66 handles all the technical details of securing your payment page so you don't even need your own SSL certificate.