You have a great idea and have created your own business to bring it to the world. But on the internet, things are a sort of reversed. You need to bring the world to you. In other words, you need traffic for your website. This is where keyword ranking tools come into the picture. As a small business owner myself, I understand the challenge of having constraints on the size of the marketing budget. The good news is there are plenty of things you can do for free to promote your online business. One of the main things you will want to consider is content marketing. To effectively create content that reaches your audience you need to do Google keyword research. In this article I'll show you my favorite Google keyword research tool, how to use it, and why this will make a great tool in your marketing toolbox.
My Favorite Keyword Ranking Tools
There are all sorts of tools and services out there for search engine optimization. Everything from super spammy backlink builders to super expensive search engine marketing platforms. It can be hard to sort through everything to find services that are both helpful and affordable. I'm going to show you how I use a couple keyword ranking tools and why they are so effective at driving high value traffic to your website.
The keyword ranking tools that I am recommending in this article are:
Jaaxy – an excellent (and affordable) keyword ranking tool for checking the popularity of keywords and how much competition there is to rank on the first page of Google for those keywords.
SEMrush – competitive intelligence and search engine research software that shows you what other sites in your industry are doing to attract traffic. It also gives you tools to monitor your own search engine marketing success.
The majority of this post will be about Jaaxy because if you only pick one service to use, that's the one I'd recommend. It's really affordable. You can run 30 searches for free. If you like it, you can upgrade to a paid account for as little as $19/month. That's much more affordable than most keyword ranking tools. It's also virtually mandatory to have a tool like this to make sure you're creating effecting content for your blog.
At the end I'll mention SEMrush because that is a search engine marketing tool to help you monitor your success. SEMrush has a feature called position tracking where you enter in a list of keywords and you get a report showing your Google ranking for each of the keywords over time. So, for example, suppose you use Jaaxy to find a new keyword that you want to rank well for. After posting your new article on your blog, then enter that keyword into SEMrush to track your Google position. Hopefully, over the course of a couple weeks, you will see your site climb up to page one on Google for those keywords.
If you are eager to get started and want to jump over and try out the tools, here are some links. Otherwise, let's dig into how these tools can work together.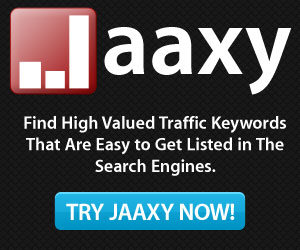 What Is Content Marketing?
Content marketing is creating and sharing helpful information with your potential customers. This can be any sort of content such as YouTube marketing videos, email newsletters, and posts on social media. The most important thing, is that you want people to find and visit your website. The best way to do that is with your blog. Your blog gives you a place to repeatedly publish great content that helps your customers understand your products, discover the benefits, and join the community you are cultivating. But how do you create blog posts that your potential customers will find? Post articles that answer the questions they are searching on Google. You discover this through Google keyword research.
Using Keyword Ranking Tools For Content Marketing
When you start searching Google for keyword research tools you'll discover three things almost immediately – and probably in this order:
You can use the Google Keyword Planner for free
The free keyword research tools are not very helpful
Paid keyword research tools can be very expensive
The Google Keyword Planner
The Google Keyword Planner is designed for you to see how much it costs to buy ads targeting various keywords. You will see how much competition there is for the keywords you are interested in and how much it costs to buy clicks for those keywords. For running an AdWords campaign, this is all very helpful. For finding keywords for your blog posts, it's much less helpful. There are far better ways to learn how to attract your audience to the content you are creating for your blog than using the Google Keyword Planner.
Free Keyword Ranking Tools
After you look around in the Google Keyword Planner, if you are like me, you might ask Google for some other free alternatives for keyword research. You'll get a long list of results claiming to show you dozens of free keyword research tools. After clicking through to several of them you will find two things.
The tools that really are free to use are of almost no help at all
The free version of the paid tools are helpful for seeing if you like the concept of the tool, but won't be powerful enough to actually conduct meaningful research.
Paid Keyword Ranking Tools
There are some incredible paid search engine research tools. They have both huge features and huge prices. If you are new to the world of keyword ranking tools and keyword research you will probably be blown away with what you can learn about your own site as well as the sites of your competition. But the information comes with a big price tag.
How To Do Keyword Research For Content Marketing
One of the primary goals of content marketing is to create helpful, educational (not sales) content. Next, get that content in front of your target audience. So, this is a two part question. First, how do you know what your target audience is asking? Second, how do you get the answers in front of them? Keyword research is a big part of the answer. It doesn't matter what type of product you are selling, people do research online before buying anything. Everything from what laptop or cell phone to buy to what blender is best for making smoothies. People are doing their research online and Google is logging the phrases people search for. Keyword research tools allow you to tap into this gold mine of information both so you can find out how your audience talks about your area of the market and also how you can provide helpful answers.
When I write a blog post, the first thing I do is come up with a general idea of the topic I want to discuss. We sell a WordPress shopping cart plugin and I get a lot of ideas for blog posts from support tickets. Customers will write to me asking how to publish a digital magazine, how to sell music on WordPress, or how to accept donations online with WordPress. The next thing I'll do is log in to Jaaxy and see what exact phrases are searched for the most so that I can understand what words people are using to talk about the topic I want to write about. You will find that there are many different ways people can describe your product. In the example of Cart66, I want to know what people are most likely to type to find our plugin. Do people type "WordPress ecommerce plugin" or maybe "WordPress shopping cart plugin" or perhaps "Shopping cart plugin for WordPress." As you can see, there are bunches of different ways people might word their searches. The only real way to know what is the most popular is to use keyword ranking tools, like Jaaxy, to discover what people are really searching for. Once you know what people are actually typing, you will be able to use those same words when writing your blog post.
Warning: It is tempting to get a little carried away with keyword research and stuff your article with awkward sentences just so you can use your high ranking, popular, keywords. It is much more important to write good articles with helpful information that people will learn from and share than it is to cram your articles with keywords. In other words, always remember to write for people, not for search engines. Furthermore, if you go overboard and cram way too many keywords into your article, search engines will actually penalize you for keyword stuffing.
Keyword Ranking Software Demonstration
Let's do another example with a real site so you can see exactly how this works. Here is a website that sells the Spinfire Pro 2 Ball Machine. It is machine that shoots tennis balls to you so you can practice tennis by yourself. It's a very cool product because it randomly places balls around the court for more realistic game play. Now lets take a look at this product page and see if we can find ways to improve the search engine rankings for this product.
First, let's get an idea of where we're starting out in terms of keyword density. This is a nice free keyword density analyzer tool where you can either copy and paste text or enter a URL to a website and then get a report showing the phrases that are used the most often in the content. I ran the Spinfire Pro 2 Ball Machine page through the analyzer. Here is an excerpt from the report.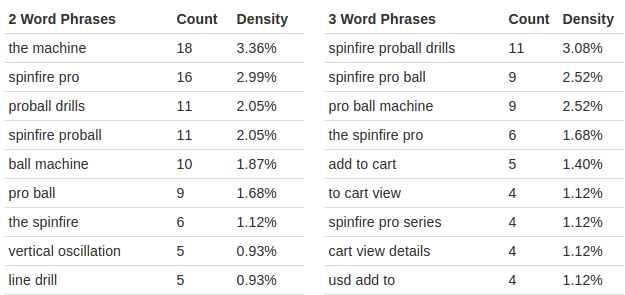 The most used phrases tend to contain the Spinfire brand name. There's nothing wrong with that. It's certainly appropriate to mention your product name prominently on the page. If people don't know about your product, however, they won't be typing your product name into Google. Instead they will be typing more generic terms to try to find products that might meet their needs.
Looking down the list a bit, we see that the phrase ball machine is the most common phrase with generic words. Noticeably absent, however, is the word tennis. There are other kinds of ball machines out there – like baseball machines for practicing your batting. The Spinfire, however, is specifically designed as a tennis ball machine. So let's take a look in our keyword research tool and see what we find for the popularity and competition surrounding some keyword phrases the Spinfire company might want to target.
Keyword Research Tool Definitions
We need to define a couple terms to understand the keyword ranking reports.
Avg: The average number of searches that the keyword receives per month
Traffic: The estimated number of visits per month to your website if you achieve a first page ranking for the given keyword.
QSR: Quoted Search Results. The number of competing website ranked in Google for this exact keyword
KQI: Keyword Quality Indicator. Green is great. Yellow is OK. Red is poor.
SEO: A score between 1 and 100 based on traffic and competition – the higher the score, the more likely you will rank on the first page for this keyword.
Researching Keywords For Better Search Engine Rankings
First, let's look up the phrase ball machine in our keyword research tool.

The keyword ball machine gets about 392 searches per month, which is pretty good, but the quality of this keyword phrase is red (poor) and the SEO score is 47 which is rather low. This site is competing with 287 other sites ranking in Google for this exact keyword – that's a lot of competition. Ideally, you want to look for keywords with a QSR of 100 or less.
What if we add the word tennis  to the keyword phrase? Does that make things better or worse for trying to get a good keyword ranking position for this page?

Very interesting! By adding the word tennis to the keyword phrase we get huge growth in average searches and estimated traffic. There are fewer sites ranked in Google for this phrase (160 for "tennis ball machine" vs 287 for "ball machine"). The keyword quality indicator moves up from red to yellow and the SEO score bumps way up from 47 to 78. So, adding the word "tennis" makes a big difference! It also means you will probably get higher quality traffic because you will be getting people looking for tennis ball machines, not a baseball pitching ball machine.
Maybe there are some other variations we might be able to try as well to improve the chances of reaching the first page of Google. Let's see what things look like for the plural phrase tennis ball machines.

We've got the green light! The keyword quality indicator is green, the SEO score is very high at 82. This keyword phrase is not searched as much as the singular version – tennis ball machine – but it is almost double the search traffic of what we are starting with – ball machine.
Taking Action
If this were my site I'd do a couple of things with this information. First I would optimize this product page as follows:
Add tennis to every ball machine phrase
Put the phrase tennis ball machine in the title tag
Put the phrase tennis ball machine in the h1 tag
Use the phrase tennis ball machine in the meta description for the page
The second thing I'd do is blog about tennis ball machines and see if I could get my blog post to rank well for the plural version of our phrase. In the blog post, I'd link to the Spinfire product page using the phrase tennis ball machine (singular) as the anchor text. The blog post would be about all the different kinds of tennis ball machines that are available and how the Spinfire tennis ball machine is different. The blog post would not be about all the features the Spinfire has. I'd be talking about the benefits you get from the features.
One thing to be mindful of is that you don't want to have multiple pages on your site competing for the same keywords. This example is somewhat close to crossing that line because we have a product page and a blog post both targeting the idea of tennis ball machine(s). In this case, I think it is appropriate because the product page doesn't have as much copy on it as the blog post would have. I would not create two different blog posts with one targeting tennis ball machine and the other targeting tennis ball machines.
Keyword Ranking Tool Recommendations
The reason I am recommending these two services is because I have been using both them myself and have seen significant growth for our business as a direct result of the information I get from these tools.
Jaaxy Keyword Research and Analysis Tool
The keyword rankings tool we've been using in this article is Jaaxy. If you are only able to subscribe to one service, I'd suggest Jaaxy because it provides the insight you need for effective blogging and content marketing. It's also very reasonably priced. You can try it for free and if you like it, you can upgrade to either the Pro version for $19/month or the Enterprise version for $49/month.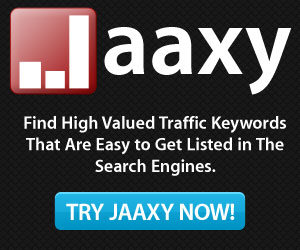 SEMrush Competitive Research Software
SEMrush is a more advanced (and more expensive) tool that does many more things in additions to keyword analysis. In fact, as a keyword analysis tool, SEMrush isn't as good as Jaaxy is for long tail keyword discovery. When I'm preparing a blog post, I don't do the keyword research in SEMrush because Jaaxy is able to give me insights in to longer tail keywords that are more specific to my topic. But where SEMrush really shines is in monitoring your progress and seeing what other sites in your industry are doing. I'll write another article about how we use SEMrush, and go over a lot of the features there. Nevertheless, I wanted to mention SEMrush in this article because it's very exciting to watch your blog post climb up the ranks in Google. In other words, you can use SEMrush to track whether or not your blogging is working.
There are a ton of other features too. For example, you can see what keywords drive traffic to your competitors' sites. This may give you some ideas for keywords you want to target on your own site. SEMrush also gives you tips on how to improve your site, what sites you might want to get backlinks from, and even monitors the SEO health of your site. So, if you have pages with missing H1 tags, duplicate content, or broken links SEMrush will tell you about it so you can go fix it before Google penalizes you.
There's a lot to learn about SEMrush because it can do so many things. Taking the time to dig in can really pay off. So head on over, sign up for free and see what you think. Before you go, make sure your shoes are tied on tight. Otherwise, when you see all the stuff you can do with this research platform, it might knock your socks off.